Our Lab
At Atlantis Skincare, we're proud to offer a freshness promise to each and every one of our customers; we guarantee that every product that we package up and send from our lab has been created especially for you.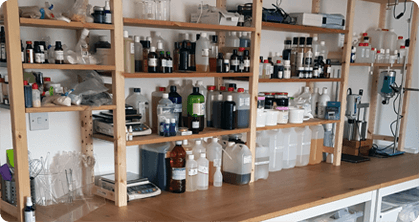 All Atlantis Skincare products, including our body oils, facial serums, and extracts, are lovingly handcrafted in our environmentally-friendly, privately-owned facility right here in the UK. Owning our own dedicated lab gives us complete control over how we operate.
It enables us to use efficient, ethical processes to create cruelty-free, 100% natural skincare products from sustainably-sourced ingredients in a clean, natural, chemical-free environment that supports our goals and aims and nurtures our beliefs.
LUXURIOUS SKINCARE For those who care
The Atlantis lab is expertly designed to facilitate small batch production of our products, enabling us to hand craft micro batches of each luxurious, effective item. This ensures complete freshness, even without the harmful chemical preservatives that are often found in mass-produced skincare ranges.
We use strong, secure, recyclable glass bottles to deliver your handmade products directly to your door. This commitment and care for every stage of the process is our way of guaranteeing that your handmade skincare elixir will reach you in perfect condition. Glass bottles also work to preserve the quality of the product and extend its shelf life.
You'll notice that many Atlantis Skincare products are bottled up in our lab in coloured or tinted glass, this protects the bountiful active and adaptogenic ingredients within by minimising exposure to UV light. This attention to detail keeps your oils and serums looking, smelling, and feeling great for longer, delivering benefits that really last.